(written by Azul/ April 25, 2021)
** News of attention **
For the British-Irish Lions match in this coming June, 2021 year rugby Japanese representative for a competition selection member was announced. There are no time to do all the members' brief review and space, but I make only one person take up.
Gerahard Van Den Heever-from South Africa. 192cm and 102kg. 32 years old. A player which possesses all elements necessary for modern Wing player who can run through 100m by a stand for 10 seconds though he is a giant beyond 190cm. He makes up with WTB, CTB and FB as a utility player.
He has served as a starting member in the whole competition in Sun wolves, 2018-2019. When saying real feelings, I wanted him to appear as a Japanese classified weapon of RWC 2019. Heaven was also giving him 2 things and 3 things in handsome a face, but he was only slightly unlucky. But please play an active part now. It's expected.
On Sunday, April 25~ JAPAN RUGBYRUGBY TOP LEAGUE Playoff.
** Introduction of both teams **
TOYOTA Verblitz : It passes 2nd place of 2021 White Conference. Favorite's one corner. The veteran brave team with whom 8 times are also spangled in Japanese best.
Main player:
Kieran Read : common captain. No.8. New Zealand 127 caps of representative.
Michael Hooper: FL. Australia 105 caps of representative.
Kaito Shigeno: Common captain. SH. 10 caps of Japanese representative.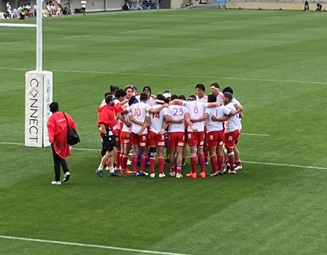 HINO Red Dolphins: It passes 7th place of 2021 Red Conference. Entry into the Top League since 2018.
Main player:
Augustine Pulu: Common captain SH. New Zealand 2 caps of representative.
Liaki Moli: LO. 2021 Japanese representative candidate.
Yuichi Kudomi: Prop. 21 caps of Japanese representative.
** Expectation before kick off **
When this season's results are considered, predominance of TOYOTA doesn't move. Further, as far as the former game is watched, HINO is slow starter, so since putting it in tournament, it's necessary to change game plan and meet.
Then I'll see about today's game.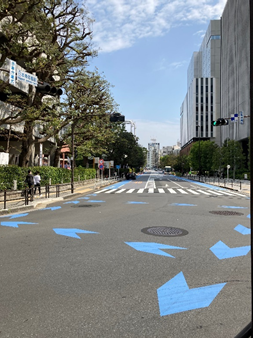 Today's meeting place is also Chichibunomiya rugby playground. It's for a short while later than usual, 14:30 Kick Off. For spread restraint of new-style Corona, an emergency declaration was taken out by Tokyo-to from today. All tickets were sold out, but since making it 2nd game of tournament, an audience is a little.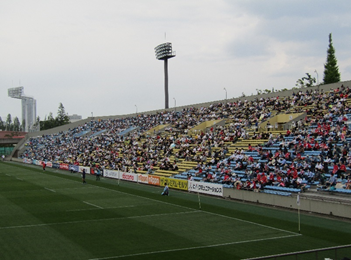 Then kick off.
If they lose this game, it's the end this season, so I have them exert itself in HINO and wants them to make a game become heated.
If I was thinking so and am seeing, HINO had mentioned a try by starting for 4 minutes. They ran, from the beginning, engine opening.
But a struggle of HINO was also until the first half for 15 minutes. After that by the score TOYOTA piled up 3 tries by the first half end, and which was 21-10 at the time of the first half end, turned.
They were fighting equally by a set play, so FW in HINO did n't seem to be ruling a game. There was also no mistake firing like time of Black Rams competition for today's game BK. When HINO scores a point, they become a little more fascinating to a game.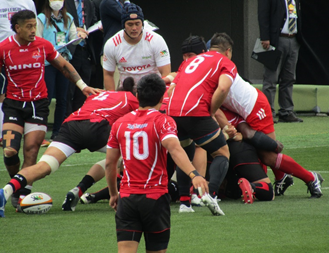 Even though Cronje in SO in TOYOTA was using the kick offensive to the enemy back for today's game. When the offensive of several games of HINO had been seen, defense of back three had been rough there, so he'd checked that beforehand, right?
However, today's HINO didn't make a mistake at all. I accepted that defense became so good in about only 1 week, and there was a stickiness in Hino's defense. A continuous attack was also done. From when would they had come to play so earnest rugby?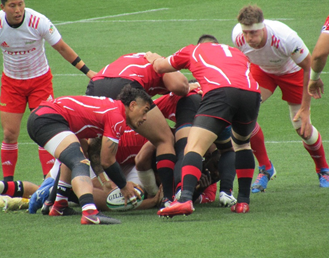 The continuous try by which they were the second half, 19 minutes and 23 minutes that earnest of this HINO was realized. The try of Kawai(FB) at 23 minutes of second half was in particular highlights of this game. When shaking 3 people of defense in TOYOTA off by a step and getting a try by oneself, I have shuddered unconsciously.
Because it's Corona, audiences weren't supposed to shout and support, so audiences clapped, this offensive of all the members of HINO was too wonderful, so the whole stadium presented clapping to HINO. (Oh was seized with the sense to say that a fan of HINO spoiled so much.)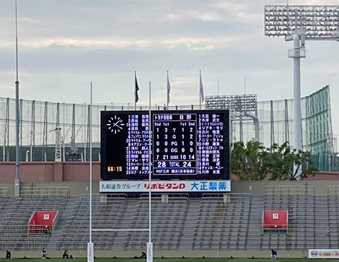 HINO approached 4 difference in points by (remaining time for 13 minutes) as of this.
I thought "Even if HINO excelled, it wasn't strange. They might be able to win." However, a continuous try could be decided in TOYOTA after this, and it had been thrust away. It's left and the cooperation mistake which wasn't shown up to that in 13 minutes had gone out. HINO also had shown the pride in the end and had returned 1 try, as a result of the as expected when the last score was next to 49-29 and the prewar days, if, it was.
However, a struggle of HINO which showed it in the second half middle was play of which supporter may think very highly.
Such play thought it's a little regrettable in fans of HINO increasing more always to form. You'll aim at a victory next year.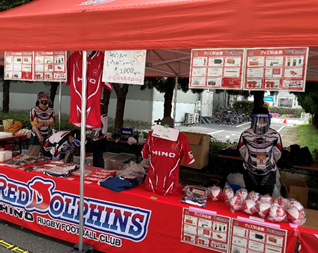 (Sales tent of supporter goods of HINO)
Jersey collection 27 (French Its 7).
Second Jersey of a French representative of 2011RWC. NIKE product. Then, in this abdomen, a line, many bottles, dispatch the design seems to have been paid much attention. I get dead stock for 4900 yen in Yahoo Auction.