(Written by Azul/ May 9th, 2021)
A quarterfinal of Top League Final Play-off Tournament was performed in the weekend, this week (5/8、9).
As a result of 2 games of quarterfinal performed yesterday:
1:TOYOTA Verblitz VS NTT Docomo Red Hurricanes
In 33-29, winner Verblitz
Competition criticism: It was a big close game as expected. Whichever won the reverse continuation, the final stage was the situation which isn't strange. The feeling that Verblitz came through the end somehow. Personally, it's deserted that a game of Red Hurricanes which livened this season's Top League most is last glimpse.
2:CANON Eagles VS Panasonic Wildnights
In 32-17, winner Wildnights
Competition criticism:
Proper win of Wildnights. Eagles was different from a last confrontation and avoided a shutout loss, but it wasn't possible to destroy firm defence of Wildnights. The biggest interesting place in the game is the dash he has finished running to which through 80m in WTB Fukuoka in Wildnights in the second half for 17 minutes. Tamura of number 10 of Japanese representative who stood as defence on the way and Mafi of Japanese representative likewise, he finished dodging, and, all audience wondered at a try. It would be a shame that he retires at 28 years old .
3:SUNTORY Sangorias VS RICOH Black Rams
Players of Black Rams infected new-style Corona in large numbers, so a game is renounced. Semifinal advance decision was given to Sangorias.
And today and the last 1 game.
Sunday, May 9 JAPAN RUGBY TOP LEAGUE Playoff: Quarter final
Long way was doing a quarterfinal and the last 1 game in watch to Fukuroi-shi, Shizuoka all the way. (One way 238km)
The nearest station is Aino station. Using the Shinkansen, one way, it takes about 2 hours.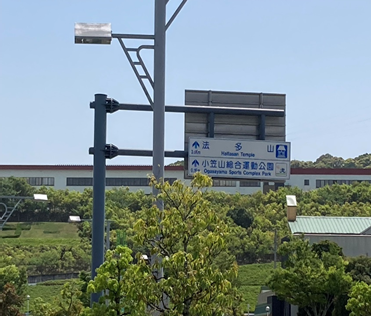 I have that with 15 minutes on foot from the station by a guide, but it's 15 minutes to the fullest by a trot, isn't it? A stadium is on the mountain, so way is uphill earnestly. It was 28 times of highest temperature today, so I have become all of a sweat.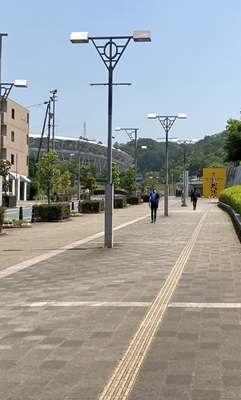 It's seen, this uphill. But this town holds the facilities where it requires such large cost of maintenance, and a person isn't walking so much, is finance in the city all right? Though a ECOPA stadium was made before soccer World Cup in 2002 when saying so, they aren't playing games so much, right? The closest one is a team of J League in Shizuoka-ken, but the snugger place is made a home stadium respectively. I'm slightly worried about operation further down.
It was so and when I was walking, an exclusive parking lot was being seen.
This is also the different meaning and why does it feel like? Though (Audience restriction by Corona.) only 5,000 people come to today's game at the stadium more than 40,000 people can be accommodated in ECOPA, a parking lot is full. You didn't have to come by a car. Also when I said, 3 trains in Aino station in the nearest station were organization. This is also proof of the case that a person has not usually come to ECOPA so much, isn't it?
And a ECOPA stadium was being seen finally.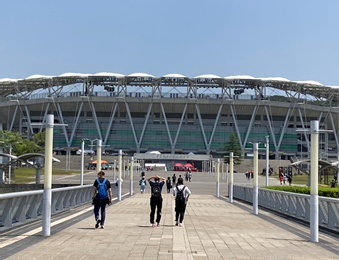 It's the biggest in the stadium to which I have gone out this season. It's the stadium of "impact in Shizuoka" where Japan team won in strong contestant Ireland team for 2019 years in RWC between the rugby fan. It seems that Rugby Football Union would like to make here a sacred place of new rugby.
They seem to hold a game of "Japanese representative team VS Sun Wolves" on June 12 and. But only 5,000 people have to settle the degree by the restriction of new-style Corona. Audience game or cancellation-lessness is also possible.
I have worried variously, but I'd like to enjoy a game.
Even if I enter the inside, it's a large stadium (Naturally?)
Then easy introduction of each team.
** KOBELCO Steelers
Japanese championship, the "absolute champion" who has achieved 7 straight victories. When winning the victory 2 years ago, every game was an overwhelming victory. More than 10 representative persons with experience of each country are gathered, too. The power isn't shown not completely satisfactory this season more than results in the past. I was undefeated just in case, but there were quite much narrow victories in the league series.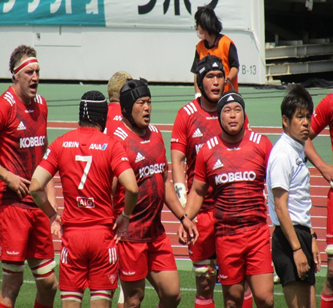 Then, next.
** KUBOTA Spears
Without victory experience. But it's the new team which has started to rip into dominance per last year. They had 2 losses in this season's league series, and it was the 3rd, but it was a close game to the end verge. There are also 7 representative persons with experience of each country with Marcolm Marx of the world best hooker at the head a belonging player. Even if a victory is contested, it isn't strange.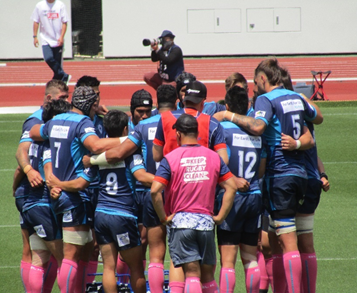 And when I counted the number of the cameraman who occupied the two goal back before a game, they were 7 north sides and 12 south sides. In other words, the press thought KOBELCO Steelers prevailed.
And in 12:45, Kicked Off.
When a game started, the offensive of KUBOTA was different from usual. It was widening excessively. I was not taking on. Was this a Steelers measure? If I thought so, SH wasn't Inoue of an usual starting member. Taniguchi player? When I checked a member table, he seemed to be the 3rd substitute player.
This fitted in as a free result. While 10 minutes had not also passed, they got 2 trys, 2Gs and 1PG, 17-0. A conspicuous one was the attack with which number 11 of KUBOTA lengthwise attack from an opposite direction, and KOBELCO permitted substantial gain more than 3 times (he tried for once of inside) is it a one-sided game for a KOBELCO ?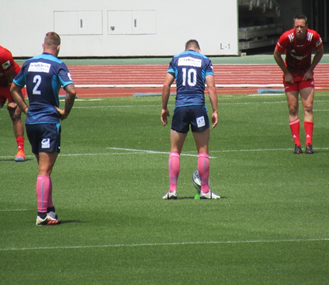 But Barnard Foley in SO in KUBOTA had a foul tackle after this in the first half for 29 minutes, blowed exiting. (Though a partner had crashed into the place Foley had left, why was it?)
Unfortunately, KUBOTA stayed in having to fight 50 minutes, in a state 1 person was few, and it was. KOBELCO got a try and a goal on the first half end eve, and it was the first half turn in 17-7. KUBOTA may be defeated by KOBELCO.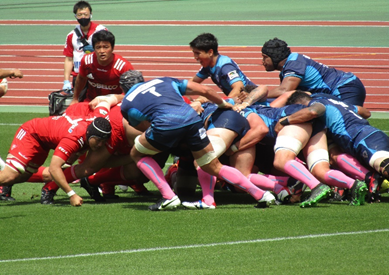 But it was slow that the engine starts in this season's KOBELCO. Even the condition second half for a little past 20 minutes when numerical predominance couldn't be utilized was deadlocked. That a counterattack had started gradually, after Ataata entered as CTB.
It wasn't a lengthwise attack using numerical predominance, it widened, and, if it had changed to an attack, they broke a defense network readily with the second half for 23 minutes and 30 minutes, tried continuously and reversed at last by goal success.
20-21. To be honest, it was the atmosphere as the win of KOBELCO just as it was.
But KUBOTA hold on here and without giving the additional score, KOBELCO had a foul. There were too much fouls in today's KOBELCO. It had completely defeated mostly in the ball scramble around the rack in particular. Is this an outcome of guidance of MARX in KUBOTA?
Van Den Heever in WTB succeeded PG by this foul, and KUBOTA reversed on end eve. 23-21.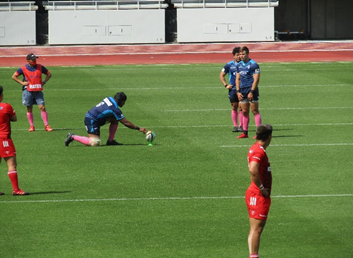 It was TOYOTA competition of league competition final race that this scene was seen and remembered, and that he failed a goal and did a reverse try in TOYOTA immediately after. It's important to finish a partner off by a game as expected.
KUBOTA protected the score for the last 3 minutes, and, ball keeping. It was a no side just as it is. The stop of consecutive victories which is KOBELCO at last.
Top League Semi-Final which will be next week by this?
SUNTORY Sungolias VS KUBOTA Spears
TOYOTA Verblitz VS Panasonic Wildnights
However, next week's game has been infection regulation of new-style Corona and has been a game audience-lessly. An emergency declaration was extended by Osaka and Tokyo until the end of the month, so the final game scheduled by 5/23 may be also a game audience-lessly.
Jersey Collection 29
Fijian representative jersey. Manufacturer obscurity. I presume from a World Cup mark of a chest and estimate at a replica after 1991. I get it for 2500 yen by Meru potash. The Fijian representative who left with a vivid impression in the 1st time RWC in 1987. The first half overwhelmed Europe champion France by a 1st game of final tournament. It had been changed to FW competition and reversed in the second half, but they showed us Fijian Magic.